I'm currently building an enclosure for my Shapeoko 3 and shop vacuum. Below is my design so far: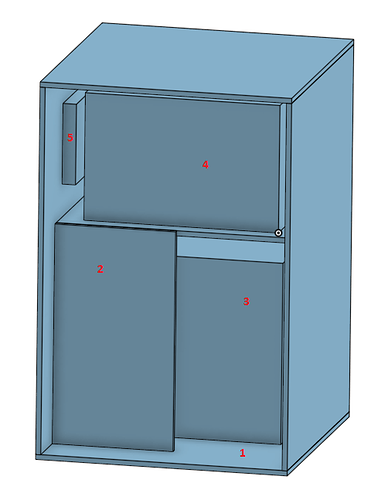 What you're seeing is the back side. "1" is where I'll have the dust separator, "2" is the back panel that makes an open exit pathway to outside, "3" is the shop vac, "4" is the Shapeoko 3, and "5" is the soundproofing foam. The idea is to have soundproofing foam on every empty surface on the inside, which means the sides and ceiling for the Shapeoko 3 and shop vac. I also intend to have foam attached on the wood surfaces of the exit path, to muffle the sound from that opening. Both the front and back will have doors with more foam attached.
For the enclosure, I plan to use plywood. What do you guys recommend for soundproofing foam? I see a lot of polyurethane foam products, but I found that is useful for sound absorbing, but not soundproofing. Not sure if that makes a difference? I would like to have a soundproof window as well, any material recommendations?
The reason for this is because I live in an apartment complex and it's quiet here. I like the quiet, but I would very much like to use my Shapeoko 3 as well. (Couldn't find a place with a garage unit I can use unfortunately)