Thanks Luke and Mike. I'll dig into this the next couple of days. I think the issue is flex in the HDZ most likely due to wheel tightness. When I put up down pressure on the HDZ I can see radial movement that's probably why my tooling is slightly higher at the back then front.
Are you getting forward backward flex? If so tighten the eccentrics more.
If you see radial movement, it's really unlikely to be the HDZ. It will be the wheels on the carriage, or the rail itself moving.
No. It's not the HDZ. The linear bearings are solid. There is considerably more weight on the gantry with the HDZ and 2 2KW spindle. So it's probably just the eccentric nuts need a little more rotation to tighten it up.
Looks awesome, what are the orange things??
Also can I get a picture from the side, I want to see how you have that 4in hose hooked up. I have mine hooked up to one but it rubs on the damn router sometimes.
I'd like to move in and work at your place
Stephen, the orange things are fire extinguisher balls. Some times I wonder into the house with it running. I do have a camera on it but a garage full of combustibles too. And these things have been known to start fires if your project breaks loose or your machine goes on independent ops in the middle of a job. So it just a precaution. The hose is a 2.5" and its run through a piece of PVC pipe that is hooked to the spindle to keep it out of the power and water lines.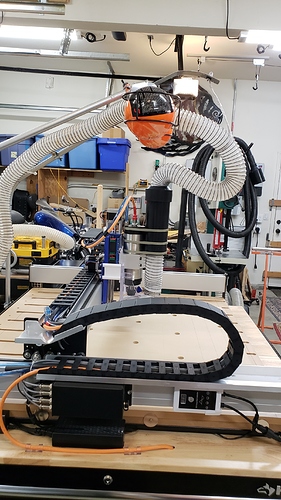 Luke, I have a guest room if you ever make it to this part of the world.
Looks awesome, never thought about the fire extinguisher balls. That's badass. Good work
I was about to ask about the two moons orbiting your Shapeoko… I've been thinking about fire suppression recently. What make and model are those and where did you buy them?
AFO fire balls bought from Amazon.com . About $40 ea.
In case anyone was wondering, the amount of actual usable travel on a standard S3 with an HDZ and shimmed proximity switches is
X - 18.445/468.5
Y- 17.106/434.5
Z- 6 /150
No frame mods and 1mm homing pull off + 1mmish clearance. That's a healthy chunk of usable space over stock!
Can the Beaver be used to mount a full size router like the PC 690, etc. ?
With the Beaver you could mount an Elephant with the right adapter.
You'll be limited by what your X and Y belts can handle. More mass can cause issues.
There are limitation to all equipment. Even a ball screw has limitations. Just higher.
I'm agreeing…saying that the HDZ removes the Z axis as a limiting factor. I think the X & Y would struggle, especially if you're trying to hog more material faster.