Hi all!
Inspired by the Modkita, Modwalt, and other VESC-based spindle modifications by @Vince.Fab and @CthulhuLabs for the Nomad (ex: https://community.carbide3d.com/t/brushless-makita-mod-unsupported/), I set out to find a solid upgrade path with the least amount of physical alterations to the Nomad 883.
I have instead of these more ambitious projects landed at mounting a smaller 5065-size BLDC outrunner directly in place of the stock spindle motor. The way I managed this is through using the Nomads stock mounting hole pattern, but with a small 3D-printed plate to offset the motor outwards by a few millimeters, so that it clears the top of the Z-axis like this: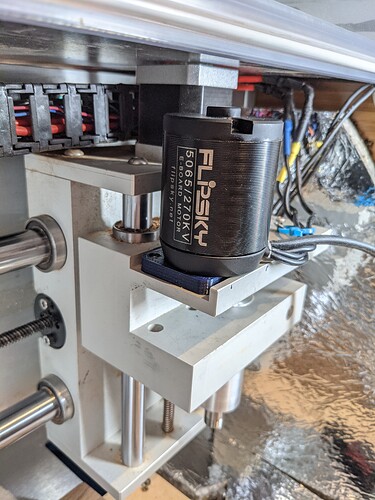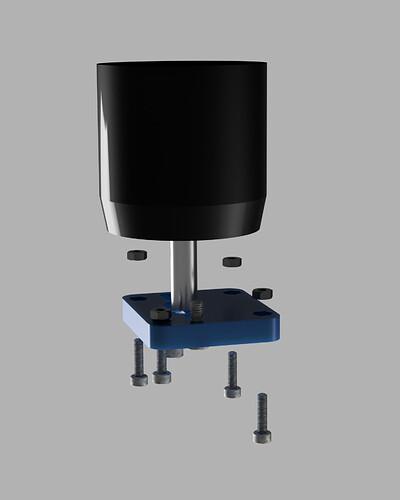 The reason this is even possible is the fact that the Nomad has a very wide slot for the axle of the spindle motor, giving a good centimeter or so of room to offset outwards.
This motor is then be ran by a VESC 6.6 powered by a 48V PSU, which gives me the possibility of running at up to (a theoretical) 32.4kRPM at the tool with the stock spindle gearing!
I just received the VESC 6.6 today, and did a test run in plastic at 25kRPM: Nomad 883 + Modified Spindle at 25kRPM in hard plastic - YouTube
Material is an unknown hard plastic, feels similar to HDPE, maybe a little harder. Tool in this cut is a 2FL Carbide 3.2mm endmill. Toolpath is a 3D-adaptive, at 2mm DOC, 2.8mm WOC, 2500mm/min. At full speed this cut sounds a little too scream-y, so I ran most of the job scaled down to 1750mm/min at the same RPM.
Issues so far have been:
Spindle motor heat management. Even during a relatively short job (~15min), my motor mount out of 3D-printed PLA does THIS D: once the motor is at too-hot-to hold a finger to temperatures. This really doesn't come as a surprise, since PLA starts getting soft at around 70°C. I am working on a mount to mill out of aluminium right now, which should lower motor temps a good bit once heat can be sinked into the machine.

No automatic spindle speed control. I have yet to set up the Nomad control board to talk PWM to the VESC, but this should be fairly straightforward once I have the right connector for the VESC to do this.
Other modifications I have done to accomplish this:
Switched out the ball bearings in the stock spindle cartridge to ones I know are rated for the higher speeds
Replaced the Z-axis endstop bar with one extended ~20mm or so upwards to give me a little extra room for the longer spindle motor.
I hope a few of you are as excited as I am to reach Nomad 3 speeds with the 883 Pro. Let me know if there are any questions or interesting ideas to try out!