HI. I was looking for feedback on a vacuum related project that I have undertaken to see if someone had done something similar or had suggestions. I have a Suck It dust boot on order and was looking for a way to suspend the power cable to the router and obviously the vacuum hose. I looked at the solution that XCarve sells which is basically a bent piece of pipe with a swivel. So first, I thought why not replicate the arm out of ABS plumbing pipe. Then I thought why not make the pipe the support and also use its functionality as a vacuum pipe. I decided to go with 2". I made a couple of brackets out of a 1/2" HDPE cutting board (see below) and over sized the center hole so the pipe could turn freely and hopefully not bind. I used the HDPE because I thought it may turn easier and would not be susceptible to swelling like wood may be.
Between the brackets are two couplers and a short piece of pipe that act like a bushing for lack of a better word and ride on the bottom of the brackets as the arm turns. The vacuum hose at the top and bottom connect with two 2" rubber pipe couplers. The other picture below shows the whole assembly mocked up and clamped to the bench. The idea would be to locate the whole thing in the rear right or home position.
Any way, that's it. I would love to hear ideas on how to make it better.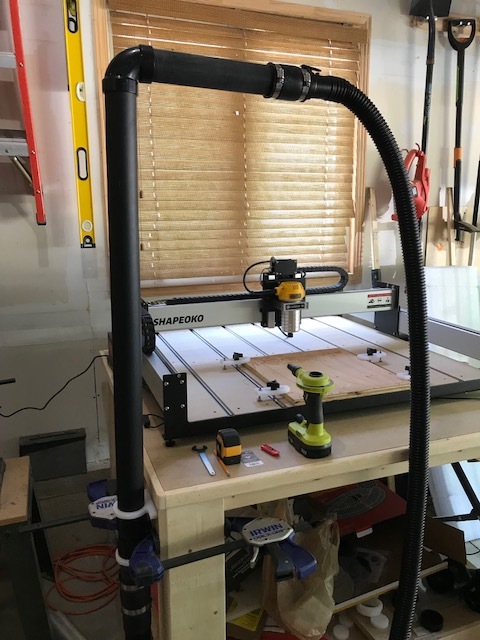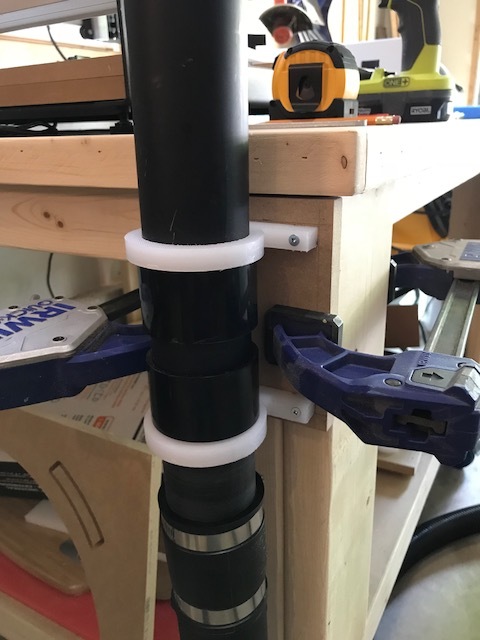 Have a good one.