This was originally posted by @vkopr. I wanted to post it in the "how to" with a catchy title so no one misses it.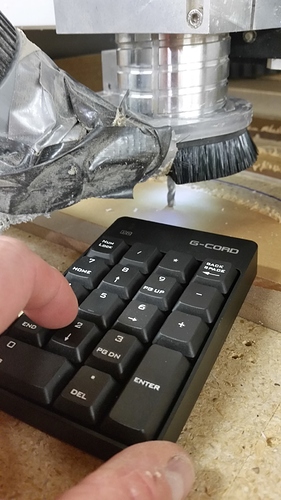 Don't judge me because of my beat up dust shoe

For anyone wanting a SUPER simple mod for only $18 that makes improves workflow significantly here's everything in a nutshell…
Its wireless so you can put the number pad right next to the router if you want to while you are jogging. Hot glue a magnet to the back of it so you can stick it to one of the front Y axis plates. Mine just sits in my enclosure for super easy jogging without stretching between the computer and the router to see what's going on.
Buy this wireless number pad from Amazon for $18 (https://www.amazon.com/G-Cord®-Wireless-Notebook-Computer-Compatible/dp/B00T5J6GK0?ie=UTF8&psc=1&redirect=true&ref_=oh_aui_detailpage_o01_s01)

Pull the battery tab (battery is included) to power it on

Plug in the wireless USB piece into a USB port (I bought a hub so I could still have plenty of extra USB ports)

It installs itself and is ready to use right away
Here's are the very simple instructions for using it: This applies to Carbide Motion… I'm not sure how it works with other software…
Arrow up/down = move Y in the positive/neg direction
Arrow right/left = move X in the positive/neg direction
Page u/down = move Z up/down
Press the "num lock" to allow jog speed changes
With the number lock "on" pressing…
1 enables "fast jog"
2 enables "slow jog"
3 enables 1 mm per press
4 enables 0.1 mm per press
5 enables 0.01 mm per press
Switch the num lock off to allow jogging again.
Thanks again @vkopr for posting this fast, cheap, simple and effective upgrade!!