Hello all!
I finished up my Z-Plus installation, and when I go to home it, it sounds like it's trying to tear itself apart. The best way I can describe the sound a rumbling noise, which occurs while the Z-axis carriage jerks up and down at random.
Troubleshooting, I moved the Z-axis connector to the X-axis motor which moves smoothly when I begin a homing sequence. Looking at the connector on the Z-axis motor, I noticed that the color of the wires are in a different order compared to the other steppers, including the original Z-axis motor. Is this motor wired into the connector incorrectly or is there something wrong with the motor itself?
The Z-axis motor connector is on the right, with the X-axis motor connector on the left for reference.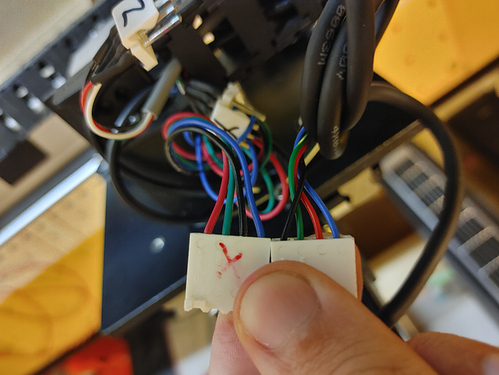 Additionally, like krayn, my kit was down two M3x18 screws, which I replaced with M3x20 screws from the hardware store. The 20mm long screws fit best on the Z-axis homing switch.