Curious if anyone else is experiencing significant play/backlash in their Z-Plus? I'm seeing about 0.5mm/0.020 inch of travel
I've been milling aluminum and noticed all my fist cuts were really deep and really killing my bits, but my second and 3rd passes were the right depths. I had set my cuts to 0.030 inch with cut depth of .010, but they were coming out at 0.050 inch with the first pass taking a full 0.030 off (0.020 too deep).
I've gone through a BUNCH of elimination checks:
replaced and tightened v-wheels
replaced all belts
re-trammed everything
re-surfaced my spoil board
replaced Dewalt bearings
checked all screws on the z axis (and everywhere)
checked thickness and settings for bitzero
took apart Z-Plus and checked screws holding the drive nut and inspected anti-backlash nut
When I put my micrometer on the rail slide, I can lift up/pull down and get nearly 0.5mm of travel (.45mm to be precise). As far as I can tell the screw itself is not moving into the motor. Holding the screw firmly and moving the z up and down I can detect no movement. Also, placing a sheet of paper between the screw and the stop post, I don't observe any movement in the screw when I lift up and down.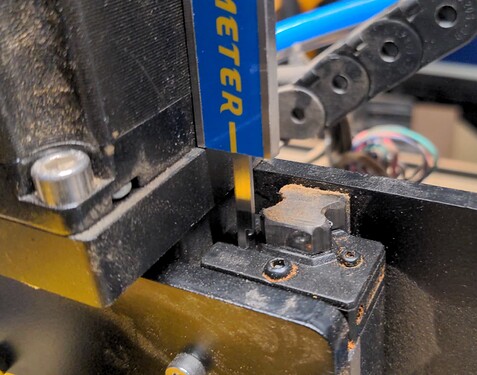 When setting zero, physically pushing down on the router to make sure it is at bottom before it touches my bitzero has given me more consistent results. My guess is the router creates downward thrust, especially at higher speeds, and forces the z axis lower due to the play, but when setting zero it is a little bit higher.
So… I think this the main nut / anti backlash nut. I can't find precision specs on what to expect, but nearly a half mm seems like a lot of play, especially when bits are cutting 3x as deep on the first pass. Maybe this has always been happening and just didn't notice on wood, it's just very obvious on aluminum.
Anyone else seeing this much play or have an idea on the specs? Meanwhile - I'm going to email support tomorrow, see if there is a way to get a replacement main nut / anti-backlash nut.