Early in my shapeoko experience, I needed to find a way to stabilize my dust control pipe on the z-axis plate, and so I quickly slapped together a very dirty bracket that I could mount to two empty screw holes that were available at the top of the plate. Wasn't sure if it would be a long-term setup so I didn't care how it looked at the time, but over the last couple months I've found it to be perfect for how I work.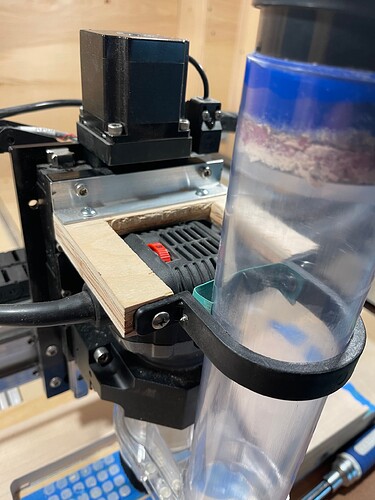 The pipe slides through the hole with just a bit of friction and holds snugly in the sweepy dust boot. I can pull the pipe out easily for spot vacuuming. It's very handy.
Btw, the pipe is clear 2-1/2" dust control tubing from rockler. I love that it's clear and I can see how the dust is flowing.
Today I had some free time and decided to give it an upgrade. Cut out of maple. Probably wouldn't hold up out of anything softer or plywood, but the maple is great.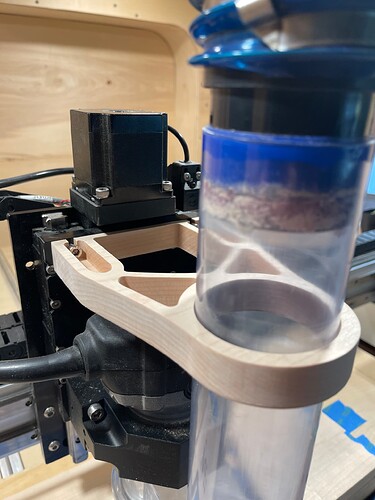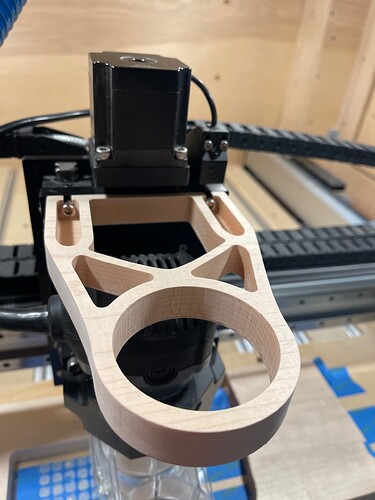 Not the most exciting thing for sure, but if it helps anyone else, I'm happy to post the file. (File in post #6 below)