Hello all,
I'm planning on adding a latching push button switch as a feed hold button to my machine. I'm connecting it to the FEED_HOLD prongs on the board: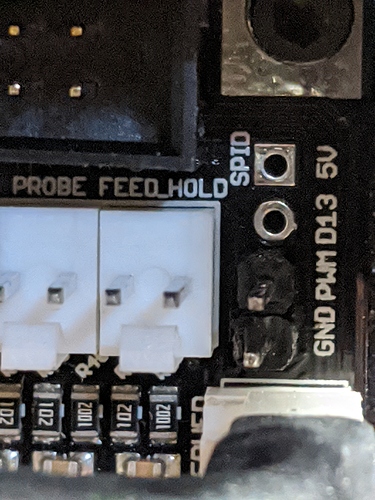 I know that this slot has 5V going through it, and I got a switch that has an LED light turn on when activated. I could only find switches that took 12V, so I was hoping it would be bright enough, which it isn't. I also purchased boost converters in case of that to step-up the voltage. For some reason though, when I wire up the boost converter, the voltage from the FEED_HOLD drops to 1.75V. I don't know how the board is wired up, so I'm just wondering if it should be possible to step the voltage up from 5V to 12V, or if there's something else going on with the board that won't allow this.
Output voltage was even less on the "out" side of the board (I can adjust from <0.5V to 1.6V)
Here is the actual switch, not that it should make a difference: https://www.amazon.com/gp/product/B07YKSCKC4/ref=ppx_yo_dt_b_asin_title_o06_s00?ie=UTF8&psc=1
Here's the boost pack too, since I know it will come up:
https://www.amazon.com/gp/product/B06XWSV89D/ref=ppx_yo_dt_b_asin_title_o06_s04?ie=UTF8&th=1
Here are some more pictures for reference:
(I had to use a google photo link because I guess new users can only upload 1 picture…)
Thank you in advance for all/any help!
-Kevin