Since @Vince.Fab has joined the spindle club, I thought I'd share how I set up my BEST vfd to drive my spindle motor from the Carbide Motion Board (CMB).
I wanted to use the PWM output of the CMB to control the ON/OFF of my spindle as well as the RPM. Unfortunately, the BEST vfd I purchased only accepts a 0-10V control voltage and not 0-5v delivered by the PWM pin on the CMB. To get around this I purchased a module that converts the 0-5v PWM into a 0-10v signal. A link is here (order the Number 1 - 5vPWM to 0-10v):
Connecting this PWM module is reasonably simple. I purchased a 4 pin connector from a local electronics store, and soldered it directly to the CMB PCB. Please refer to these instructions (scroll down to the pictures of the PCB's and follow the PROCEDURE portion carefully
https://wiki.shapeoko.com/index.php/Spindle_Control#Complete_DIY_Solution
Here is a picture of my soldered connection: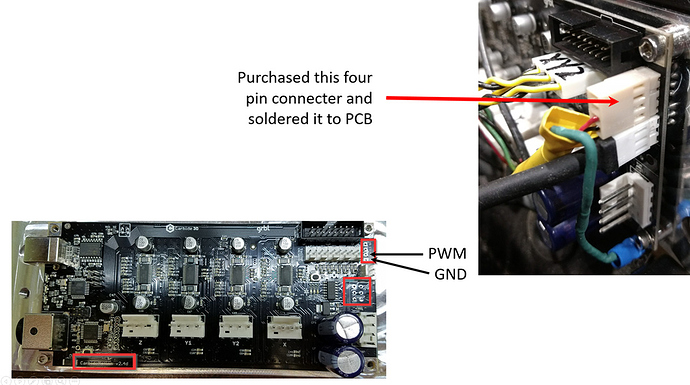 The important point here is to have a wire connected to the PWM terminal (in my case its the RED wire, and the GDN terminal - my case the black wire). You don't need the connector I added.
Next step is to connect the wires from the CMB to the PWM module and the BEST vfd. Just follow the picture below: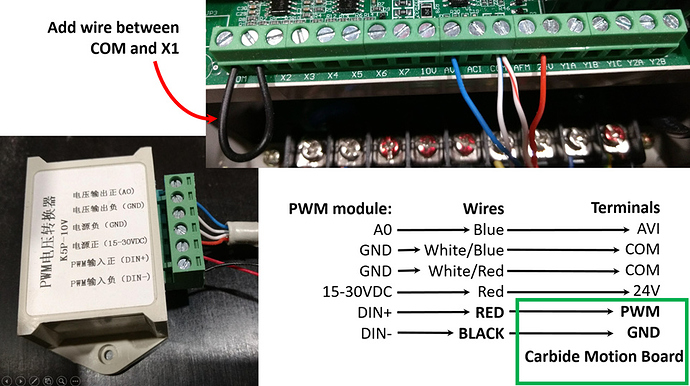 In addition to the wires between the CMB / PWM module / BEST vfd, you need to add a wire between the COM and X1 terminals on the BEST vfd.
You also need to connect your AC supply to the Live and Neutral terminals on the BEST vfd as well as the three wires to your spindle motor (U, V, W). If you are not experienced electrically - get someone appropriately qualified to make the AC / motor connections for you!
In the next post, I'll continue with the BEST vfd setup…