OK - I've been at it for several days with this challenge. I'm a complete newbie/green bean here but it's been quite fun and learning so much. I'm not finished yet and will post final pics later but figured I would add to this amazing forum.
So my idea stems from always having a hard time finding my tools so I clearly needed to hang this up near my SO3. So instead of just using pegboard, I decided to make a lego wall to hang the parts.
I designed the lego's all in Carbide Create from the industry standard Lego Sizes… I needed a few base plates to hang on the wall and then several pieces to hold the things I would use to hang the tools.
I'll start with my key learnings so far - which have been way too numerous but I think that's part of the challenge and learning.
Cable drag - I just have the standard SO3 and thought I followed the instructions to a T, but as you can see from this picture, the cables drag too much in the back and it threw off the machine while cutting so I ended up not having as many pieces as I'd designed. But I added one more cable tie in the back of the machine and it does not drag any more and should not get caught anymore


Workholding - here is where I seem to think I'm getting better but everytime something new happens. I have 3d printed many different size clamps but I either had them too close to the cutter or in the way of the Sweepy. I also was trying to fit the biggest size I could on the SO3 vs. just wasting some wood on the side. I also now have double sided tape that I should use if I'm cutting to the max.

Precision - I first designed my piece to be 14.3" square and just cut it on my table saw, thinking I would be "close enough" to 14.3" so when I turned it over and cut the front, it would be close enough… But even just being a tiny bit off threw off the back. So the next time I had had the machine cut two 1/4" holes that went into my baseboard that was symmetrical so that I could turn it over and just push in two 1/4" bits to get it aligned exact the second time when cutting the other side.

Carbide Create - I learned so many things trying to get it both designed and create the toolpaths.
a) I'm still struggling for a good way to pick lots of things at once without having to click each one while holding down the shift. I found that if I grouped some of the common circles for the cuts, then selecting them would be faster to make the tool paths
b) I was hoping to use the 1/4' bit the most but the first time I designed it, the space between the outer wall and holes was less than 1/4". But then I read more on this forum, and just created an artificial outer box where the cutter could cut, and then made it around 50% faster. So learning how to offset to make cuts was an important learning for me
c) Carbide Create seemed limited to me at first, but when I really started learning it, there is really a lot of good stuff built in (centering to last object or stock, offsets, boolean, etc…)
Random disconnects. I'm still having them but Carbide 3d team has been awesome in helping me try to isolate it. I was making all my cuts with one .nc file but learned that even with a disconnect, it would not lose the zero point, so I could just do another .nc file without the cuts that were completed. I'm confident I'll get the random disconnects fixed soon.
Here is my completed base plate: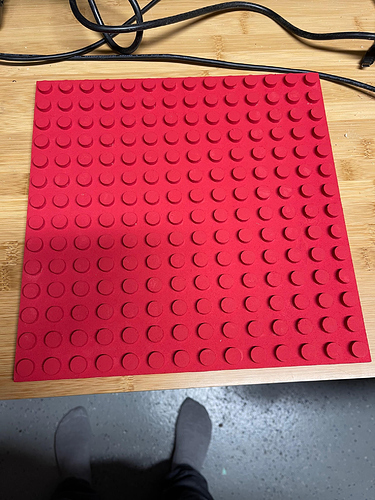 And here is the first part of hanging tools. I just used a small nail into one of my lego pieces.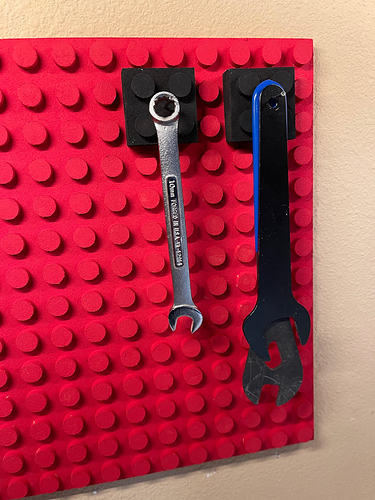 My tomorrow project is to stack a few of my bricks together and then cut squares in the top so it can hold my CNC bits and then drill some holes to hold the allen wrenches. I hope to expand this out with another base plate and hold my headphones and eye glasses. It's all painted red/black to match my wall cabinets.
More pictures tomorrow. And any ideas/recommendations/tips would be hugely appreciated. I'll upload all the lego parts later too - they actually work and stay together (if I take all my learnings into account).