I just got the new SO3 (with the Z-plus axis) and I'm designing a soundproof'ish enclosure for it. I live in an apartment, so reducing noise is really important to me.
I've already asked for advice on vacuums on this forum (I've landed on the Nilfisk Aero 21-01) and was hoping I could get some advice on enclosures.
First of all… what kind of clearance do people feel is comfortable to the sides, back, front and top of the SO3? If the SO3 is in the top position, it's 450mm tall from what I can measure. Right now in my design the room for the SO3 is 510mm tall. Is that a comfortable height for the SO3 to be in?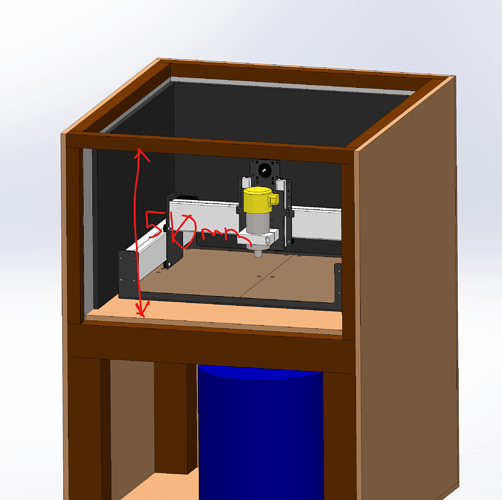 It's still early in the design-phase, but I'm struggling with whether the sound from the vacuum can reduced as well. Right now, I've designed it so the vacuum (the big blue cylinder in the screenshot) can be in the room below. I'm concerned about the vacuum heating up too much though and I don't know how it can get rid of exhaust air. I can't find any good solutions for this in other enclosures. Does anyone have any suggestions?
Thanks in advance.