Hello everyone! This is my first time posting and really need some help as Ive been struggling trying to get my shapeoko XXL to be consistent…
My project needs a precision engraving and a line of .4 .5 .7 .9mm and filled letters. Seems like its always on or off, inconsistent with z depth.
I have gone to flattening my spoil board multiple times, getting z-plus, and new Makita router over Dewalt.
Anyways I am doing testing and it seems easiest to use a vbit to achieve the 4 different width lines and seem I have to be between .022mm - .388mm in Z depth to achieve these lines.
Heres where the problems come in…
I will go to find x and y on my stock then zero all, then probe with v bit (only z) with 201 end mill chosen.
I then try to run the project and sometimes it will be a hair off the stock and not engrave, be around 40mm above the stock, and sometimes had the machine go deeper then it should and destroy the material im working with… (Very frustrating)
I will probe then run it, see its not engraving. stop the machine. let it initialize again, try the process again and normally the project works within 1-3 try's. Same project, just ran multiple times.
(part of the text also doesn't seem to be writing)
Spoil board is flat, im wondering if its got gaps underneath the spoil board that's flexing on location or I'm tightening the stock more on one side or i need double sided tape along the bottom to help it be more even?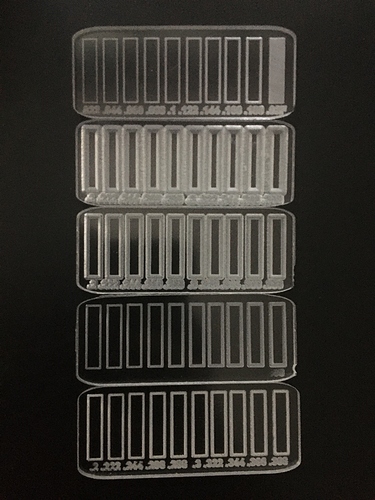 First time on a random spot on a freshly flattened board with brand new makita router. (.022-.188mm +Fill) Looks good

Needed wider line so I went up .022 but definitely know its not supposed to be that much deeper. (.2-.388) going up by .022 each rectangle. (near the first location on spoilboard)

Same g codes as the 2nd one shown which is reprint of .2 - .388mm z depth test. (less deep and getting closer…)

Same g codes as 2nd and 3rd but choose to move the stock left by like 3 inches and looks better on lines ( looks more clear and not white) but numbers on bottom didn't write and only barely did on one spot.

Same g codes as 2, 3, 4 and this time it looks like it did the proper depth and i can finally see which i need but this time it is more white the clear unlike the one above
Also makes me afraid to do filled letters like the one square thats filled as its only .020mm max and min depth and .125 mm stepover. and letters are bigger then these rectangles on some projects.and looking at the 4th one down, it only engraved the numbers on the bottom right. (well the project is mirrored so its engraving backwards)
ANY HELP IS APPRECIATED!!