Since I'm more of a traditional woodworker looking for more accuracy, I was originally thinking of getting a Shaper Origin, but this new hexagonal staircase newel cap project seems better suited for a CNC like the Shapeoko Pro.
I drew the design out in Illustrator as I always do. Then I built a quick prototype using traditional methods (dedicated sled for the dark ebony wedges and miter sled for the triangles), but quickly found out that with 12 pieces even if I'm off on the angles by only 1/10º, I'll have a gap larger than a full degree, which is completely unacceptable.
Here's a photo of the prototype: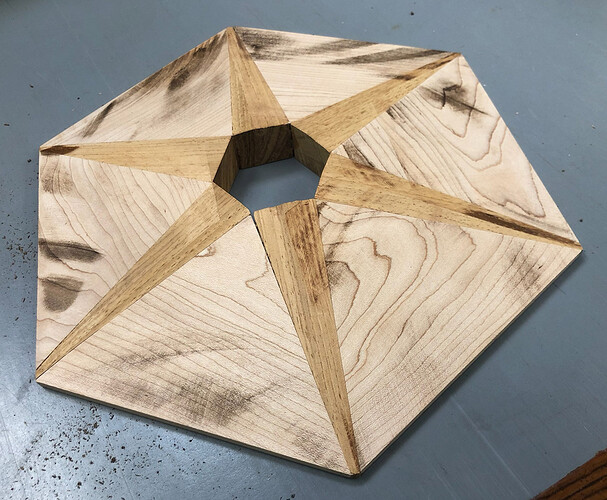 Pieces will be Ebony and Mahogany. My stock is 1.5" thick and I cut the pieces out, then glue them up. Then I run the glued assembly 6 times through the tablesaw, with the piece on each edge and the tablesaw blade tilted to provide the bevel.
My questions:
Is this project within the normal capabilities of the Shapeoko Pro? I'd need good double stick tape or secure the pieces up from underneath the spoilboard to secure them.

If so, should I still cut them out in 2D fashion, glue and trim, or should I cut them directly to the 3D size on the CNC? I might design them to leave excess on the face so I could still do final trimming on a disk sander.

Here's where I think the Shapeoko will shine: I have six hexagonal posts to cap, in 3 different sizes. Since the posts were built with traditional methods, they are not true hexagons. The 8" across post, for instance, is off by 1/16". I can put a piece of thin plywood on top of each post and then flush trim route that plywood to the actual shape. Then I could draw the pattern, adjusting it so that the corners line up and the ebony wedges have the same thickness, essentially hiding the imperfections in the larger triangles. In essence, I would custom build each cap to match the posts imperfections. Anyone else do anything like this?
I'm thinking of starting out with the Standard size Shapeoko Pro since I expect that most of the projects for which I want CNC precision would fit. And I believe I could always upgrade that to an XL or XXL later if I decide to dedicate that much shop space to CNC.
thanks!