While it's quite straight-forward to make MDF filler strips on an XL:
Geometry isn't so kind on an XXL or Standard w/ their essentially square bed.
Making replacement filler strips requires that one do a bit of rotation to make things fit, and source narrow boards, rather than large sheets.
First, go to the local lumber yard and buy a board of suitable dimensions (greater than 40" in length, wider than 3" or so, and as close to the 3/4" thickness as is possible). One option is Azek "Exterior PVC Trim 1 x 4 x 8' (nominal dimensions, actual dimensions: 0.75-in x 3.5-in x 8-ft)":
https://www.lowes.com/pd/AZEK-Actual-1-in-x-3-5-in-x-8-ft-Trim-Board-PVC-Board/1000507559
That a 4x8' sheet is only a bit more:
https://www.homedepot.com/p/AZEK-Trim-3-4-in-x-11-1-4-in-x-8-ft-Frontier-Trim-PVC-Board-AF10012096/204790968
is an interesting look at the economics.
Another option is MDF boards — these are more affordable, but aren't as thick, and usually are pre-primed.
If you don't have a truck or van, bring a handsaw (or buy one while shopping) and cut it in half or so that it will fit in one's vehicle (probably best to cut a bit longer than 40" so as to maximize the length of the final off-cut):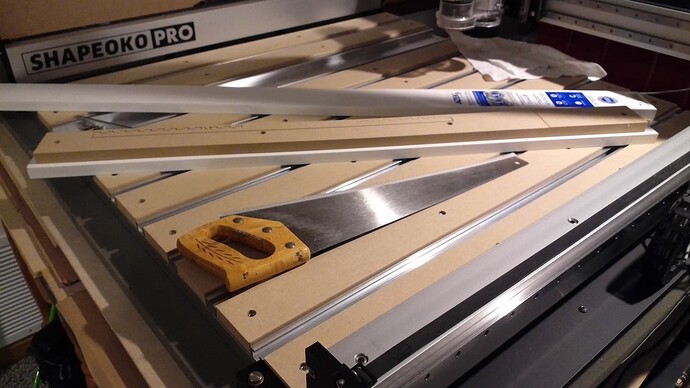 Necessary tools:
4mm hex key (to remove and replace MDF filler strip)
hand saw
Shapeoko w/ trim router and suitable endmill
suitable workholding
Necessary materials:
suitable lumber
MDF filler strips in need of replacement