So,
I think I've caught it in the act, but I've probably still missed some things…
After going through a couple of limit switches on the Z axis on my HDZ I figured it was probably user error or some odd combination of actions that caused an occasional overtravel which results in a broken Omron mechanical limit switch as they are not able to withstand the load of being pushed in hard enough to shear off the locating peg on the housing.
Being the sort of person who thinks twice is unlikely to be coincidence or accident, when I replaced the second broken switch I carefully avoided putting the locating peg into the matching hole on the HDZ aluminium plate as this was a key part of the ability to destroy the switch in an over-travel event, I rely on the substantial friction and a small rubber O ring instead to hold the switch in place;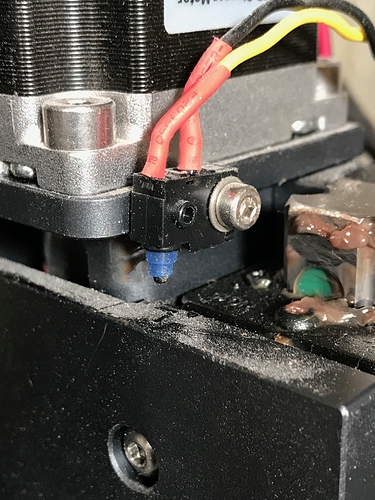 I've now found an entirely repeatable method of causing the overtravel which will break the switch quite effectively, if you have it mounted as per the design.
All you need to do is set your retraction height on your toolpath in Fusion 360 to be greater than the remaining Z travel after setting Z zero, which can happen quite easily on a tall workpiece or long bit. The job will start, the HDZ will retract to the normal height for tool insert, spindle start prompts, then the toolpath starts and at the first Fusion360 CAM retract for a rapid, clunk, brrrrrrp skipping Z stepper and broken (or pushed out of the way) Z limit switch.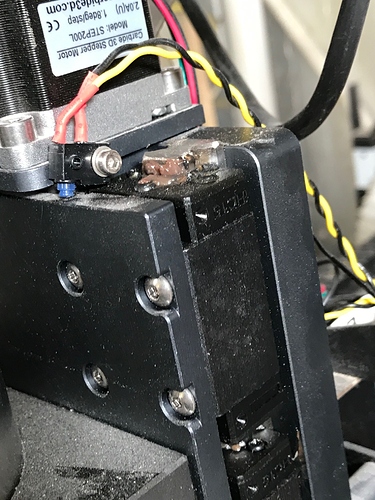 So, now that I've been able to repeat the event with what I think is a 'reasonable' series of actions (reliably enough to take pictures as it happens);
Zero Z height above tall-ish workpiece
Set enough retract height in Fusion 360 to clear clamps during rapids (40mm in this case)
Start job
I think I'm now inclined to call this a design fault (which we can hopefully get fixed with a better designed mount for the proximity limit switch)
Fortunately my deliberately bad mounting of the Z limit switch has avoided me breaking my remaining stock of spare switches.
What mistake have I made that I've not spotted here?
Should I turn on the soft limits option in the controller? Would this prevent the over-travel and stop the job where I exceed the machine limits?
Thx