Yet another "let's do something to beat procrastination tonight" moment.
The other day I bought a couple of those laser cross-hairs for $15 on Amazon: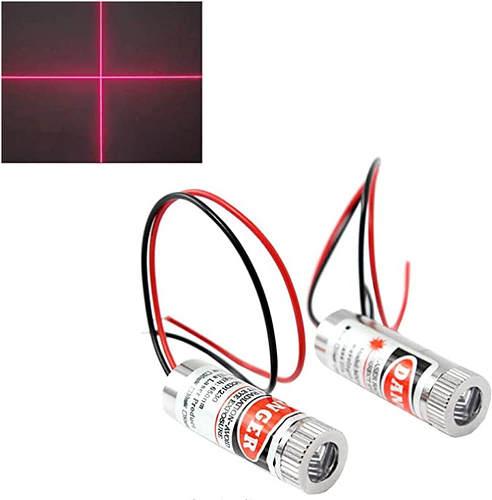 This was on my todo list of things to try to have a better way to eyeball X/Y zeroing in cases where a probe for X and Y is not convenient (think V-bit)
I started thinking about how to route a 5V wire from the controller, started 3D printing something to mount the laser onto my dust shoe arms, adding a switch, etc…and then thought, there's no time for thinking tonight, let's just slap this thing on the side of the spindle with blue tape, use a separate 5V power supply, and get to work.
So here's take #1
I first made a note of how far along X and Y the laser dot is from the center of the spindle, and wrote a oneline G-code macro to move by that amount.
then jogged to the target point on the stock (not quite visible, circled cross)
clicked the macro: spindle moves to where the laser dot was.
It does not get more basic, but I feel there's potential there for a cool feature, if I integrate this correctly.
My intended workflow would be to turn the laser on, then first use the crosshair to help aligning stock to machine axes when installing it onto the wasteboard. Then use the crosshair to define X0Y0. Finally click a button to move there and probe Z normally.
Things I have to do now:
route the 5V from the board to the top of the Z and down to the laser
add a switch/pushbutton
design and print an attachment that is adjustable in height, to be able to focus the crosshair when stock thickness varies.
To be continued…