If any one is good with editing vector graphics I would appreciate some help. I'm using a freely available .jpg off the web and I am not doing this for any type of commercial purposes, so I'm not making any money off your effort.
I can convert the USN_Diver file into a .SVG using Inkscape but I'm not happy with how it comes out. I've attached my .SVG and if you take a look at it compared to the original, you can see that the ropes on the collar get all jumbled up. I'm not trying to retain a fine amount of detail, as the carved image will be a little less than 2.5 inches high using a .050 30 deg bit. Some details will just be too small to show up, I get that, but I would like it to be as relatively nice as possible. So for example, I don't need all the small threads on the ropes to show up, but the general shape of two ropes would be good.
The .SVG doesn't even look terrible until I import it to CAD/CAM. Then the dark areas get converted to blobs which is fine except for the ropes and the port to the lower left of the face mask grate.
Originial picture: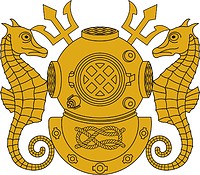 My botched .SVG: