There comes a time in a man life where he has to decide if 70W and 10,000 RPM is enough. On an engineering basis, 70 watts probably makes sense for a desktop machine and is totally fine for majority of users. Let's be honest, for beginners, a spindle that stalls is a really good thing. Continuing to be honest, I am not a beginner and I am also an idiot so here we are…
I've been going down the rabbit hole modifying my Nomad and this seemed like the next step to incrementally turning my machine into a DMG Mori competitor. I did a lot of pondering architecture; the current carriage design doesn't lend itself well to aftermarket modifications in current configuration. (And I really didn't want cut a hole in the top of the machine.) Inverting the motor, running it in reverse and attaching the mount to the underside of the existing carriage ended up the best path; it's stiff bolt on modifcation and allows you to close the stock door! NEMA 23 brushless motor traded pretty well on square size, length trade was driven by the motor not interfering with wrenches during a tool change. The motor has a 3,000 RPM maximum but was able to slap a larger pulley on there with the new packaging so will be able to hit 12,000RPM on my Nomad…for at least a while before my drive belt explodes or the spindle bearings melt. Even when it's not running at hooligan speeds, I will have over twice the torque so I am hopeful drilling aluminum will become a thing. (Keen eyed users will notice I am already running an ER16 collet, I won't stop until I can run 3/8" shank insert mills on my Nomad!)
I designed the part up in Fusion 360 and cut it on the Nomad. I wanted to avoid tapping aluminum at all cost and wrenches are clearly for barbarians so I designed the nut torque features into the plate. Ran the 1/8" single flute for most of it, aside from the M3 clearance holes that I ran with a .039" 2 flute end mill.

Nomad is hilariously accurate and I was really pleased with the fitup, always nice when a plan comes together.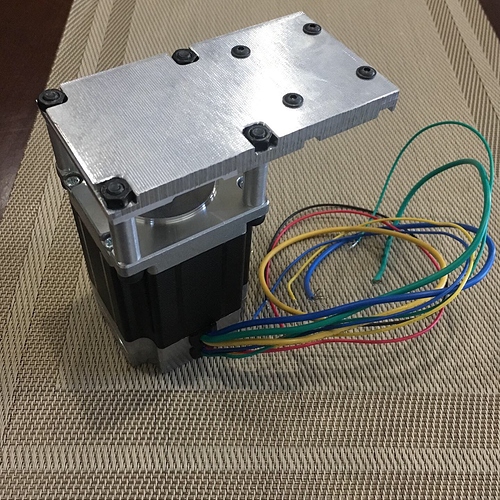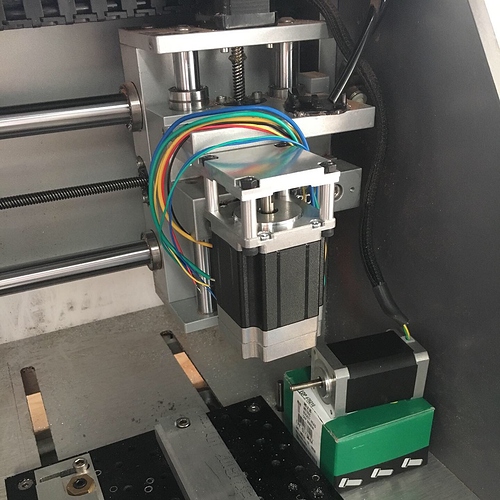 Pulley arrives in ~2-3 weeks. Still need to size and order the drive belt. I can do basic prove outs with benchtop power supply but ultimately will get this to integrate with a plug and play Nomad expansion PCB I've been designing with a bunch of extra features I've wanted.