It started with this (filthy) trivet that showed up while I was reorganizing my pile of stock material:
I surfaced it, then loaded this teeny tiny 25° single flute V-bit I had bought a while a go and never had the opportunity to use:
(no comments on my machine-gun-balanced collet nut please

)
I had NO idea what kind of cutting parameters I should use for such a small and pointy vbit, in bamboo, so I took a deep breath and picked gut feel values: 18000RPM, 75ipm, 0.5mm per pass, 0.5mm stepover. Two hours later I was ecstatic about the result (did I mention I LOVE bamboo ?):
Then proceeded to pour epoxy. It so happens that I was almost out of black die, so I used the bottle labelled "redish black" instead.
24h later I surfaced the epoxy,
And applied a coat of Ikea oil:
Zoomed-in: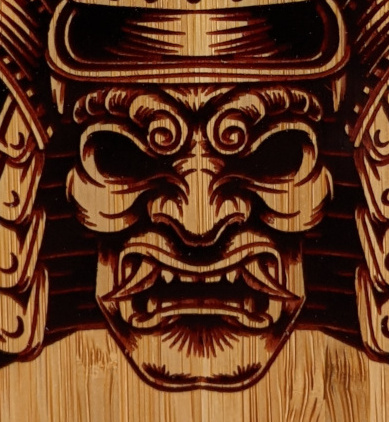 Very happy with the result, for once! Love this bit.