Hi All,
I tried rather unsuccessfully to V carve with my SO3 using Carbide Create. I know this topic has been explored before and sorry in advance for not being able to find what I needed in previous posts.
I was trying to do some rather small letters so I purchased the Amana 30 degree V mill with a .005 tip width and a .440 cutting length. When I try to carve anything, the bit just scratches the surface. In fact, it looks exactly like the line preview in the toolpath section of CC. It only carved the blue lines, nothing deeper. I can't find (or don't understand) the information being presented to me regarding the depth of cut of a V bit. I've read that CC knows how deep to cut based on the tip width of the tool and the width of the letters, but all I get is the blue outline on my piece (see attached).
I don't understand how to set the carving depth, or the depth per pass in CC to have the bit go deeper. The Amana website says the depth of cut is:
1xD (use recommended chip load) - where chip load for this tool is .003 to .007.
If my line width is .25 inches and I'm cutting .007 per pass, is it really possible that it would take 40 passes to do one line? This is theoretical of course, as I can't get the cutter to do more than scratch the surface with those settings.
Should I be using a bigger cutter? A 60 degree or 90 degree? According to some images I've seen here, a higher angle cutter will yield an even shallower cut.
The letters on top are about 1" tall. The smaller letters on the bottom are about 1/4" high. I tried cutting those with a .031 flat mill. Those didn't work out so well either.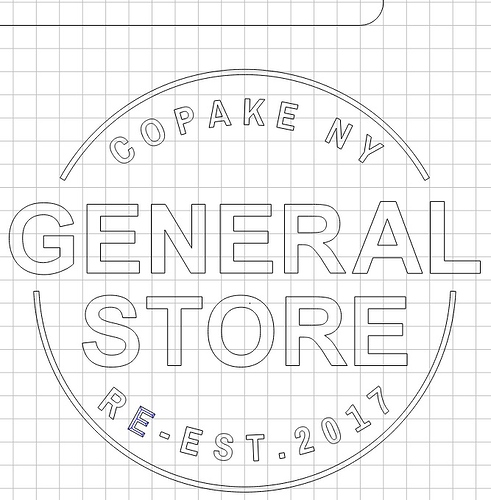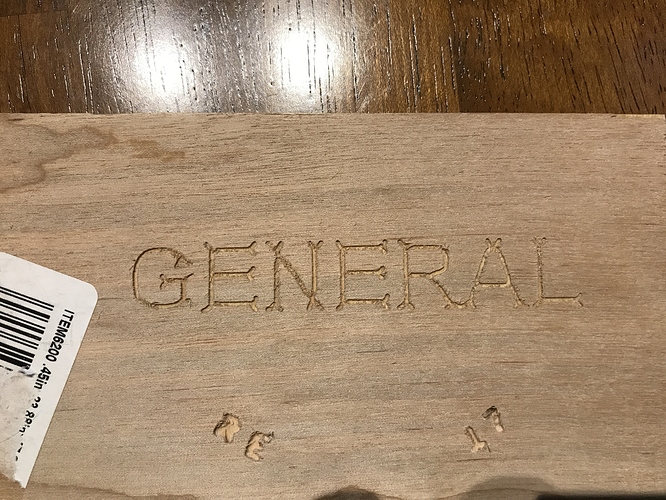 Should I be trying to do a regular contour cut on the larger letters? If so, I'll still be unable to cut the smaller letters
Any help will be greatly appreciated.
Thanks,
Philip