I have inconsistent results from one side of the machine to the other.
Background:
SO3 XXL. Originally came with steel core belts that failed, replacement belts installed last year. "Gates Carbon Drive" app tuning method used to properly tension them. I was never able to get them exactly the same but they are very close.
Much of the work my machine does is cutting multiple identical parts out of a single large panel. I've recently noticed that parts cut out on the left side of the machine were slightly different than parts cut out on the right. I'm not sure if this has always been the case and went unnoticed or it it popped up suddenly or if it has been slowly getting worse over time. I put together the following test to verify exactly what is happening.
I cut out a 16" long rectangle from an unpainted piece of 1/4" plywood mounted to the left side of the bed. And then ran the same file after resetting my zero on a second piece of 1/4" plywood mounted all the way on the left side of the bed, this one painted black.
The one cut on the right side is about 1/32" short of 16". That is perfectly acceptable for the type of work I do. But the one cut on the left side is a full 1/16" shorter than that, so 3/32" short total.
I'm not concerned about overall accuracy but consistent from one side to the other is important. Has anyone ever seen an issue like this before? Any ideas on what might be causing it? Do I need to go back to fighting for perfectly matched belt tension?
Thanks.
Left side result: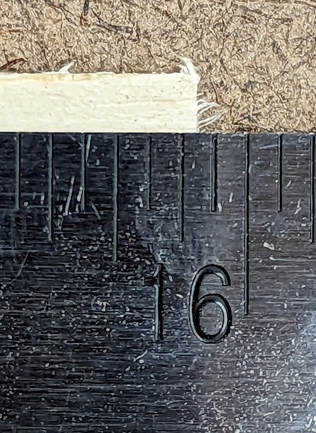 Right side result: