(Kinda irritated - as a newb I can only load one photo and two links - I'll try to break my post up to explain…)
I'm getting a weird stretch/offset on the last pass of my cuts. I've seen this happen in both the X and Y axis now. The best I can explain it is the first 2 cuts are on the path as they should be. The final pass at full depth, it's like the vector is stretched.
You can see in this pic there is a slight lip in the middle of the 5 and larger lip at the bottom. This is on the Y axis.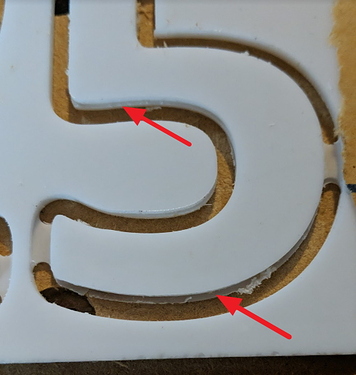 The width of the cut at the bottom is 0.1595". End mill was 0.125", so 0.0345" wider than it should be. The top of the 5 is 0.1275", 0.0025" off, seems within tolerance.
These are the two files, I'm using CC 464 and CM 513. This was created in CC.
House Numbers.c2d (772.4 KB)
House Numbers.nc (63.4 KB)
Here's everything I can think that may be pertinent:
Shapeoko XXL with Z+, ordered in March 2020
It is square and level, checked and quadruple checked
Checked the belt tension, all seems good
Checked the cogs on each motor, all the grub screws are tight and aligned to the flat
Z axis is trammed both left/right and front/back
I'm using a Bitsetter
I'm using a touch probe
I'll note that when I first noticed this on a different job I found the X axis had slipped (don't thnk that was the cause though) - the mounting on the Z+ causes the gear to be pushed back on the shaft flush to the motor, the grub screw did not mate to the flat. I filed the shaft down and the grub screw is now on the flat and it is tight.
So now I'm out of ideas. Problem with the controller board? Bad USB cable? Bad motor? Software issue? Firmware? Operator error?
I should also note I switched to a newer computer for the acrylic numbers file for both the design and cut with a fresh load of CC and CM.
This is my first personal CNC, but plenty of experience on big Multicams and similar. Apologies for the long first post, any help is appreciated!