@SDGuy - What are you using to color your epoxy?
I have been busy cutting boxes with my laser,

These are meant to replace cardboard file holders that were falling apart

(I later sanded off the burnt edges)

bought a set of tag holders,

and used my Shapeoko to cut 9 front panels out of bamboo,
et voilà
Classy, like olden times before plastic and cardboard furniture.
MC,
That is good that you were able to accomplish a 3d carve in a few steps. I been trying with little to no success but I won't give up.
I'll keep on trying. Thanks for your insight.
Jean
How quaint. Paper file storage. I bet you still write letters, using cursive and sent through the mail!
Sorry Julien, couldn't resist. Nicely done!
I made an enclosure for my new Atomstack X7 laser.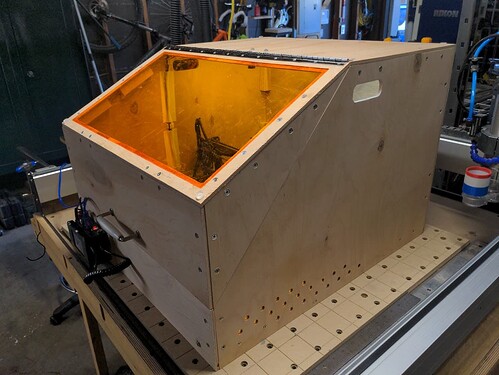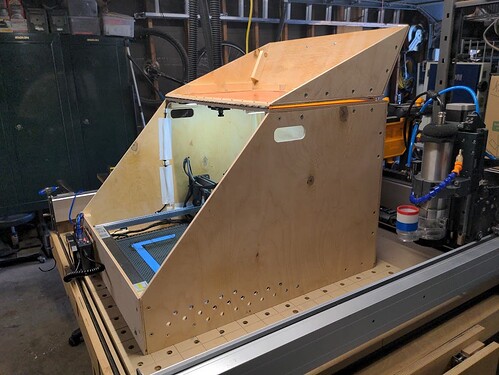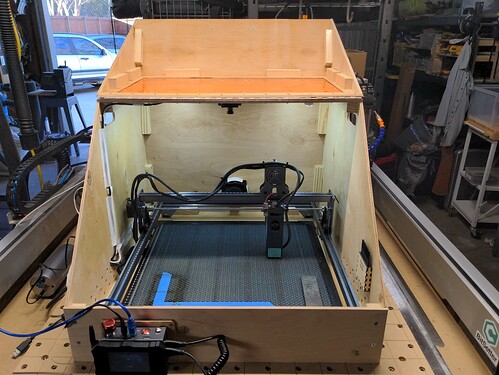 The wood is a really cheap grade 6mm baltic birch I salvaged from machine packing crates years ago. This was my last full sheet, I had about 50 or more originally that were 4' x 4' or larger. All the screws are mismatched because I went through and found whatever I could in the thousands of screws I've saved to put it together. For the box itself, my only costs were the piano hinge (which I know I have a two foot section from another project somewhere…) and the laser safe plastic from Jtech.
The laser is bolted to the front so it is secure in there. This will help for transportation and with camera positioning for Lightburn (if I can ever get the camera to be recognized by Lightburn in Linux, but that's for a different forum…). Built in cabinet fan with a quick detach 20' vent hose. LED lights bars on on the top.
For anyone interested, here is the svg file. It should work for other similar sized lasers. Dimensions were based on allowing full movement of the carriage and getting enough height for the camera to view the bed. The base panel is in a slot in the side/front/rear panels for strength. Everything else I went simple with 1"x1"x4" blocks and screws, you can see in the photos.
12x24 Laser safety panel
Quick disconnect vent
25' plastic covered dryer vent
Quiet vent fan
LED bar lights
Wide angle camera
3d print file for Cam Case.stl (161.8 KB)
If you decide to use these plans, you should reposition the drill holes on the side panels. Because I had them lined up, when you try to put a screw in from the top and then the side, well… they hit each other

I had to run some in at angle. Also, I chamfered the lid panels on my table saw, set the angle using the lid side piece.
Anyway, this was a quick-and-dirty Shapeoko project, functionality (mostly) over form. It does what I wanted which is contain the smoke and the vent fan pulls it out quite well even though it is a smaller fan.
Made a case for my loaner calculators so that they don't end up crushed at the bottom of the catalog case I use as a briefcase.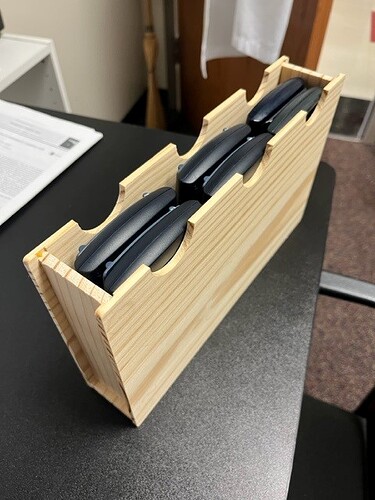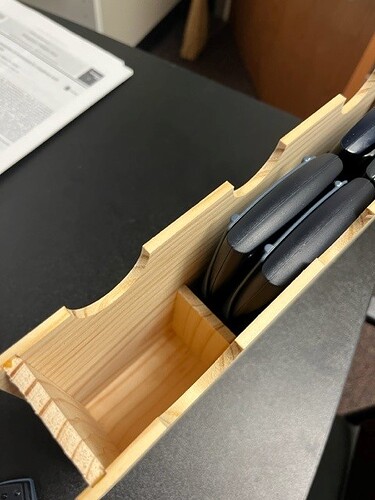 Having a drum sander makes creating these types of incidental boxes easy
I use dados&grooves for the joinery. Dado/groove width is set to match cutout depth. I back sand to separate the parts (look Ma! No tabs

) I am banking on the boards being thin to minimize crossgrain forces. If it fails for that, I'll make another and reorient the dividers (and perhaps a slightly different gluing strategy)
John
Acrylic paint.
I bought a set of small tubes at Michaels.
This came out nice. One hard part was getting the bag/shoes logo off their business card (about 1 inch square) and expanding up to useable size. I tried making this a few months ago but was not yet good enough.
Am now though.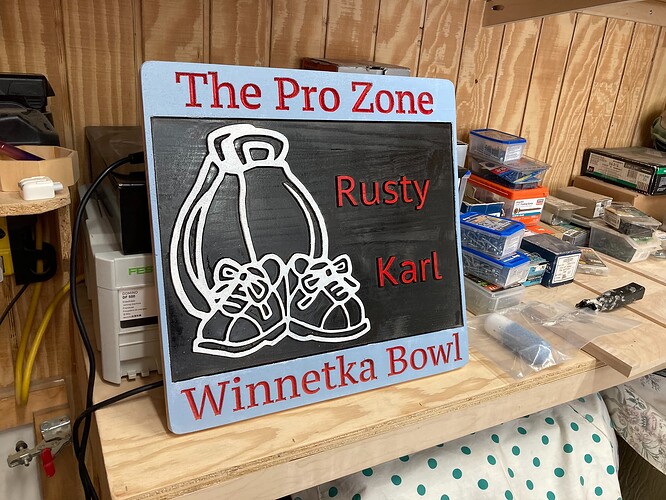 Looks like pine and that is very soft. I dont think you will need to worry about cross grain breakage. Pine is ugly but very forgiving.
My first time trying image tracing in carbide create with the Nomad! 1/16" 6061 Aluminum using the 501 PCB engraver for the image, followed by a 102 contour cut to create the card outline. A little hand sanding to smooth the engraved burrs and edges. The things we make for love…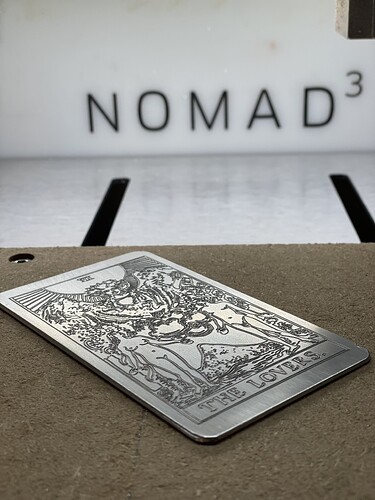 aluminum sign for my cousins (2nd) hair studio.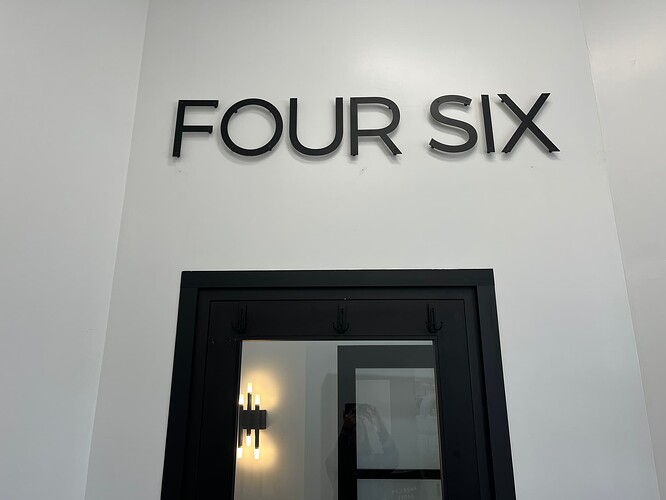 Got creative with the spacers & cut a bunch of 1" chunks of black fuel line

Took another shot at some 3D cutting bought the file off Etsy but this one turned out alot better then I figured it would have it's 5x8.25 I went smaller for practice but not so small to lose any detail I am very happy with this one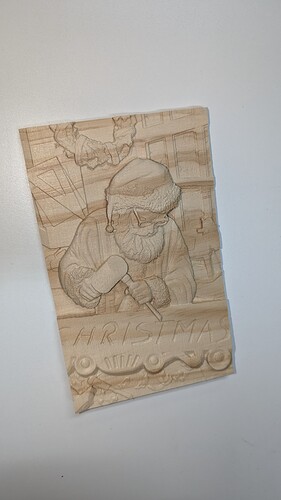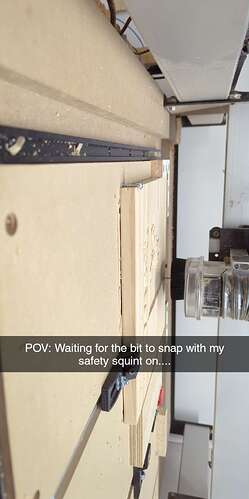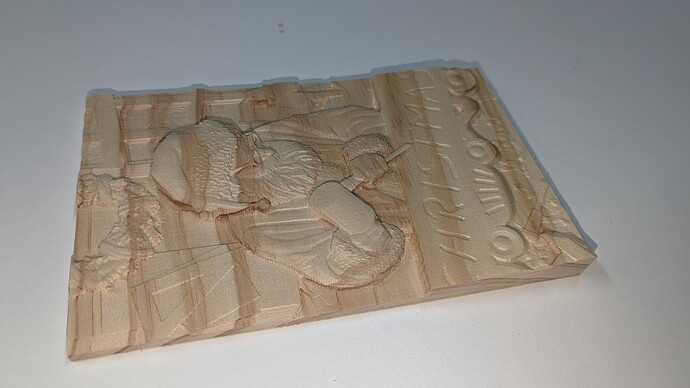 I have a vinyl cutter I should make something for the shapeoko like that lol with my chair that is my exact POV when sitting lol so I do sit with a squint when I feel I'm pushing the bit a little

Someone on FB was looking for a turning solution, so I clamped my Dremmel Moto-Lathe to the HDM
Designed up a quick pen barrel & tried it out.
Lathe spins at about 3400 RPM, I ran a 1/4" ball & 1/16" ball at default spindle speeds for hardwood, and had to slow the feedrate down to about 5 IPM (3 IPM for last pass) to get a good cut at 0.050 DPC.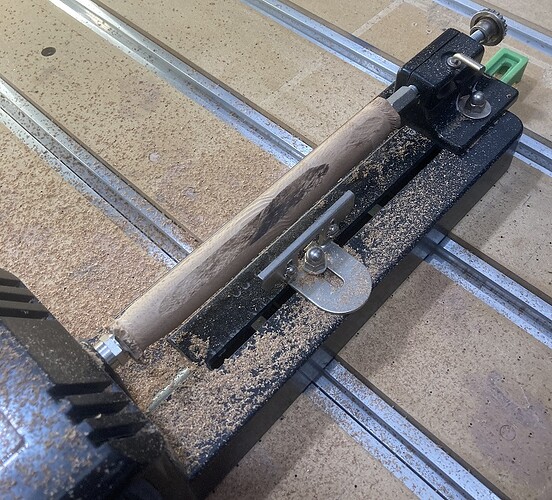 First couple passes had a bit of chatter in the middle of the wood. Dialed it in.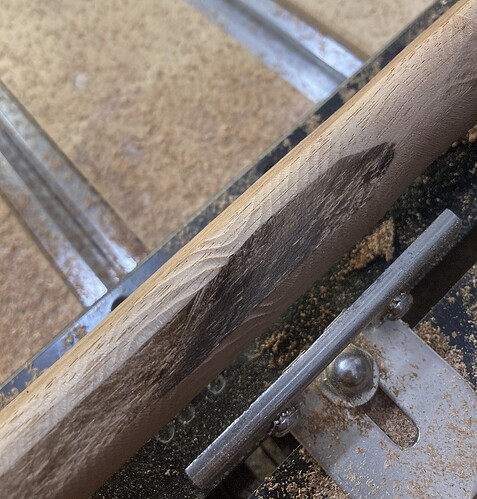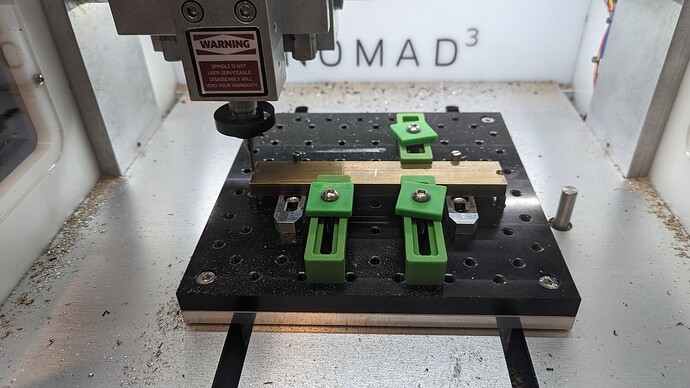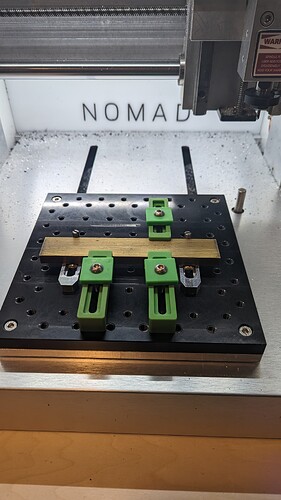 first cuts in brass for a prybar idea i had as a Christmas present for men in the family next year. and women if the want one too.
Really envious of the detail. Using carbide create and I'm not getting nearly the same amount of detail. Down to a 1/8th bit too.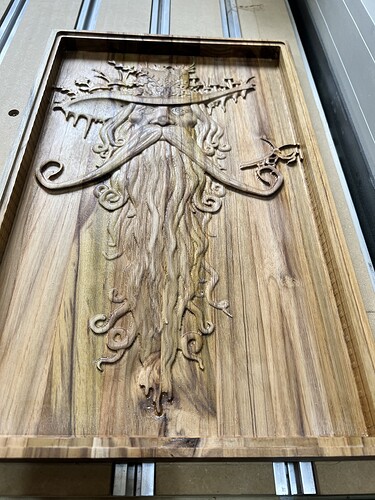 Tip diameter on the tapered ball nose I used is 2mm so about .08". A bit more than half the size of your 1/8" cutter.
I'd guess that's the difference?