Hi there!
To keep us all busy/inspired/creative let's kick off the next challenge.
If the number of clicks on the link Rob posted recently is any indication, MANY of you now have a Carbide Create Pro license, and have had the opportunity to test it by now, so let's see what you can do with it!
Challenge #7 is: "Showcase something you did with Carbide Create Pro"
The rules for this seventh challenge are:
submit your entry in this thread:

you must use at least one Carbide Create Pro feature
you must include pics of the finished piece.
you must include the CC design file (so it shan't include any licensed vectors/images/heightmaps…)
tell us about your mistakes, tips and tricks, etc…

you can post multiple entries if you want.
timeline:

deadline is set to April 30th, midnight PST (a little longer than usual, considering 3D jobs are typically fairly long to run)
there will then be 7 days for voting.

voting will be open to legit community members only, and the jury reserves the right to remove votes from "outsiders", and will also break any tie.
Something tells me you are going to like this month's prizes!
And some cool Carbide3D swag: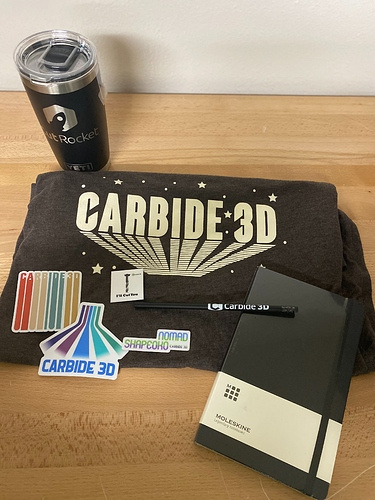 Ready, steady, go!