Contests are back!
Community challenges were always a great way to see the creativity of the community. For me they've been great sources for inspiration, and also to show what people can do with the machines when I'm talking to either a new user, or someone who isn't really familiar with CNC.
The theme for challenge #28 will be: " Map/topography features ".
You could do a topographical feature, a giant map, a compass sign, whatever! As long as it relates somewhat loosely to the idea of map or topography features. Get creative!
Go check out what people did in the previous map contest for inspiration (and other contests!): Community challenge #17: Maps (closed)
I just finished this project that I had a few issues with, but the person who got it was super happy.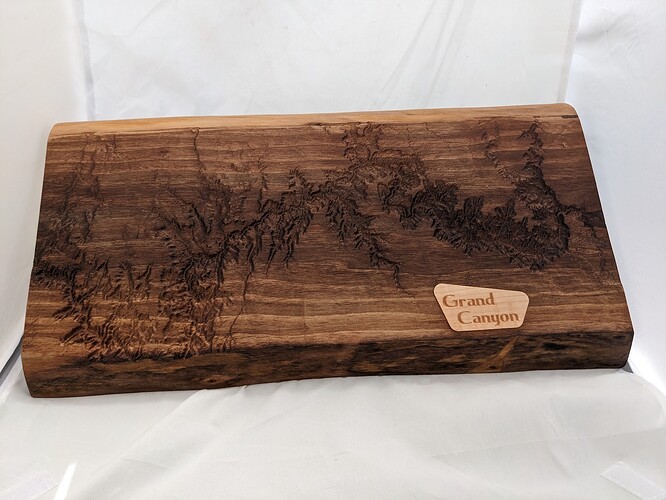 I wish I had paid a bit more attention and some of the canyon didn't get cut off on the bottom left. Also I should've used a deeper height value so that the canyon would be more pronounced. That would've increased machining time, but I'm not super concerned about that usually. Also I think I finished with a 1/8 ball, but should've maybe considered using a 1/16th instead.
Anyway, I can't wait to see what you all come up with. Here are the Rules:
submit your entry in this thread
you can post multiple entries if you want
you must use your Shapeoko or Nomad
post pictures of the project and tell us about the process, the mistakes, lessons learned, etc.
include the design file. (I find this to be helpful for newer users).
Using inlay or tiling will give you +2 points to your vote count (limit one per project, so you don't get +4 points for using tiling and inlay. Though I'd be impressed.)
Winner will be decided by voting. Jury prize will be decided by the Carbide 3d team.
Timeline:
Deadline is set to May 12th 2023, midnight PST
there will then be 7 days for voting.

voting will be open to legit community members only, and the jury reserves the right to remove votes from "outsiders", and will also break any tie.
Here are the prizes for this Challenge:
First place: Josh's cutter pack + set of Tiger claw clamps + Carbide Create Pro for a year
Second place: Josh's cutter pack + Carbide Create Pro for a year
Jury prize: Josh's cutter pack + Carbide Create Pro for a year
We'll likely include some Carbide3d swag for each winner as well.
Josh's cutter pack includes:
#251 1/4 inch Downcut flat cutter
#201 1/4 inch flat cutter
#101 1/8 inch ball cutter
#111 1/16 inch ball cutter
#301 90° V-bit cutter
McEtcher
I may make edits, so check back occasionally. Good luck machining!