We just uploaded a new release of Carbide Create, Build 750, that include a new Inlay mode for Advanced V-carve. Normally, we'd do more internal testing, but there are so many edge cases for this that we want to get it out in public now. Get it at Carbide Create Beta Downloads
This is available in both the Free and Pro version of CC. Please give it a shot and let us know how it works for you.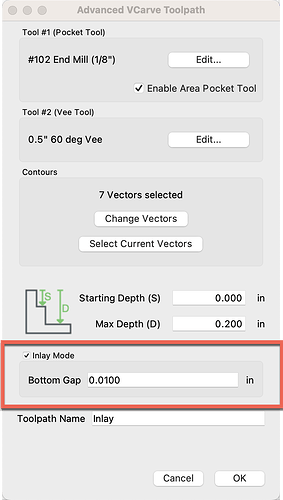 How to use it:
Create a pocket for your inlay using the normal Advanced V-carve toolpath. Pick a reasonable depth- maybe something like .2" or so.
For the inlay, create a copy of your vectors and mirror them horizontally or vertically and create some kind of border around them. (Bonus points for the first user to cut an inlay from a very expensive chunk of wood without flipping the vectors)
Select that whole thing and create an Advanced V-carve toolpath with with the same depth.
Enable Inlay mode.
Enter a small Inlay gap, maybe .01" or so. This will offset the vectors to create that big a gap when the inlay is put into the pocket so you can tap it into place to create a tight fit… You cannot achieve the same thing by adjusting the V-carve depth, this modifies the geometry internally.