We just posted CC 520 to: https://carbide3d.com/carbidecreate/download/
520 includes a big new feature for us, Image Tracing.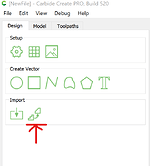 You should be able to load a JPG or PNG and get a reasonable set of curves from it very quickly.
A few caveats:
Right now, it's mono only so color images will be converted to black and white using the thresholds in the window.
We're not optimizing for very small images so some will work well, others won't. We'd recommend images larger than 500px on a side if possible
By default, the vectors are grouped to make it easier to move and scale them. Ungroup them if you don't want this.
Winston is going to knock out a video soon to show it off.
A huge benefit to having this built into CC rather than using a third-party vector design application is that we treat the output as just a bunch of vectors. They're not grouped into shapes or whatever other native objects used by the other application. (Speaking from experience, this was always a PITA for someone with an engineer-brain rather than a design-brain)